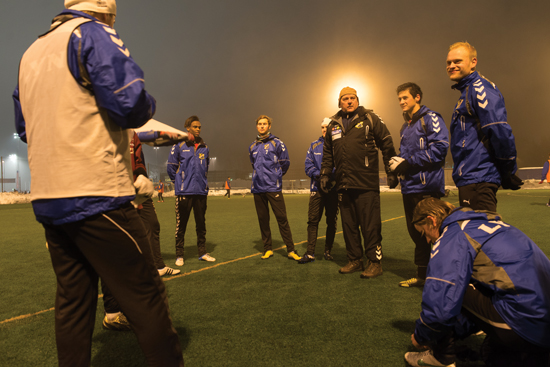 Lyn var luftslottet som alle lo av. Det var klubben ingen hadde følelser for, som ikke akkurat ble styrt etter fornuften. Det måtte gå galt. Så tok supporterne kontroll.
Tekst Lars Johnsen
Foto Eivind Hauger
Innenfor døra i fotballhallen på Manglerud på Oslos østkant står en voksen og velbygd mann med russerlue på hodet og ørelappene godt trukket ned over ørene. Han er innendørs nå, men med 16 blå utenfor er lua grei å ha på, til hodet igjen har normal kroppstemperatur. Han har en treningsjakke med Lyn-logo på. En etter en kommer det gutter og unge menn gjennom inngangsdøra. De har også treningsjakker med Lyn-logo på. Han nikker til dem, de nikker tilbake, samtidig som de rister litt løs i kroppene som var sammentrukket av kulde bare noen skritt tidligere.
De kaller ham bare Bredo, mannen med lua. Han heter egentlig Finn Bredo Olsen, og er det du kan kalle en ekte klubbmann. Da Atle Brynestads imperium falt sammen, selskap for selskap, sto Lyn øverst på lista over ting han ikke kunne bruke penger på lenger. Lyn gikk konkurs. Man måtte begynne helt på nytt i 6. divisjon. Klubbmedlemmene og supporterklubben Bastionen tok kontrollen. Deres første krav: Bredo skulle trene A-laget.
Og nå, to og et halvt år seinere er Lyn tilbake i en nasjonal serie, etter å ha surfet gjennom 4. og 3. divisjon med 45 seire, en uavgjort og to tap. De skal ikke spille mot kompisgjenger fra småbygder lenger, motstanderne er ikke lag med t-skjorter der numrene er teipet på ryggen. Norsk 2. divisjon er ikke akkurat Champions League, men likevel et hav av forskjell fra divisjonene under.
Lua i hånda
Det er Bredo som skal gjøre laget klart for den oppgaven. Han vet at denne divisjonen blir noe annet. Allerede som tiåring trente han sitt første knøttelag i hjembyen Brønnøysund, senere trente han både juniorlaget og A-laget til moderklubben. I 1997 flyttet han til Oslo, og ble en del av Lyn-systemet. Med unntak av perioden 2004-2005, da han var i Stabæk, har han hatt en eller annen rolle som trener i Lyn. Han kjenner alle nivåene i norsk fotball.
– Det har vært en allsidig reise med Lyn – en reise på alle klasser. Den startet på førsteklasse der alle involverte var profesjonelle. Men det spiller egentlig ikke så stor rolle hvilken divisjon du holder på med, drivkraften må være den samme: Ønsket om å bli litt bedre, viljen etter å vinne. Men siden jeg kjenner absolutt alle i klubben så har det kanskje vært en ekstra motivasjon å jobbe med laget når det har vært på lavere nivå, sier han. Han har tatt av seg lua, nå som hodet er akklimatisert. Men Lyn skal ikke stå med lua i hånda.
– Du kan ikke hvile på laurbærne i dette yrket, laurbærne er i hvert fall veldig sesongpregete. Det brenner hele tida. Inni her [peker på hjertet] og under beina på deg. Nye nivåer krever en ny form for kunnskap. Å drive et opprykksjagende lag i 4. divisjon krever en annen form for bruk av ressursene, for eksempel må du legge til rette for spillere som er gode nok, men som ikke har tid til å være med på alle treninger og kamper på grunn av jobb eller familie. Vi har vært opptatt av å bygge kultur, mer enn å få tak i penger. Vi må fortsette å bygge, men det kreves penger og folk har forventninger til oss nå. Vi må inn på jaktmarkene til de større klubbene, sier Bredo.
Drømmen om FK Oslo
Hånlig viste tabloidavisene bilder av garderobene i det nye tribunebygget på Ullevaal, da de sto ferdige til Lyns gjeninntreden i toppfotballen i 1991. Det var bygget badekar til hver spiller! Lyn var sosseklubben fra vestkanten. Det holdt ikke med fellesdusjer der i gården. Lyn-logoen preget gulvteppene i klubblokalene på nasjonalarenaen. Og de ble tippet høyt. Med Tom Sundby som midtbanestreteg, klinte Bladet Fotball til med å tippe gjengen med egne badekar i garderoben til gull i 1992. Avisene hadde Start eller Rosenborg øverst, men Lyn var med i medaljetrioen. Men de gikk nesten konkurs allerede året etter, og forsvant ned en divisjon. Før 1999-sesongen kom Atle Brynestad inn, og alt ble snudd på hodet. Brynestad hadde ingen klubbfølelse for Lyn, men et «brennende engasjement for Oslo-fotballen». Den våte drømmen var å danne FK Oslo ved å slå sammen Lyn og Vålerenga, med suksessen til sammenslåingsklubben FC København i Danmark som modell. Brynestad var sannsynligvis den eneste i Oslo som syntes ideen var god.
I stedet ble Lyn til FC Lyn Oslo. Et pengesluk som ble holdt kunstig i live av konsernoverføringer fra Brynestads selskap CG Holding. Trengte man fem millioner kroner for å gå i balanse et år, gikk det greit. Og sånn gikk no dagan på vestkanten.
I 2002 var Lyn en treneransettelse fra seriegull. Sture Fladmark hadde fått trenerjobben midlertidig etter at skotten Stuart Baxter takket ja til å bli U19-landslagssjef for England. Under Fladmark vant Lyn 10 av de 13 første seriekampene, og ledet serien klart da kroaten Hrvoje Braovic ble ansatt som hovedtrener fra 1. juli. Det var en behandler i alternativ medisin i Atle Brynestads bekjentskapskrets som anbefalte kroaten.
Braovic hadde seks måneders erfaring som hovedtrener i Dinamo Zagreb, før han hadde blitt degradert til akademiet. I Lyn var han mest opptatt av restitusjon. Avisene slo opp bilder av formasjonsgym på Lyn-treningene. På det tidspunktet hadde Lyn mange skader, så at han ville unngå tøffe, fysiske økter, var for så vidt ikke unaturlig. Den lille, tynne mannen med bart og briller så ut som en litt sprø vitenskapskapsmann, som bablet i vei på typisk balkanengelsk. Lagt sammen med «gymtimene» på treningen, var veien til latterliggjøring kort. Restitusjonstreningene fungerte uansett ikke; laget kollapset.
2002 kalles bare «gullsesongen» i Lyn-kretser. Alle som fulgte med den gangen husker kollapsen til Lyn. De fleste tror Lyn tok sølv, men de ble faktisk nummer tre. Molde sneik seg foran Lyn hele fire serierunder før slutt.
Lønnsgaloppen
Totalbudsjettet til Lyn i den perioden lå på 40-50 millioner kroner i året. I 2008 hadde dette økt til det dobbelte. Den middelmådige australieren Shane Stefanutto tjente tre millioner kroner i året. Jimmy Tamandi rakk knapt å spille en A-lagskamp, men hevet en lønn på to millioner kroner. Vinteren 2008 satt Lyn-ledelsen i forhandlinger med Viking om å kjøpe Peter Ijeh for et tosifret millionbeløp. Så fikk de beskjeden: klubben hadde ikke en eneste krone å bruke på spillerkjøp. Oversikten over økonomien i Lyn var det folket i Brynestad-systemet som hadde, ikke Lyn-ledelsen.
Det økonomiske ansvaret lå hos klubbens samarbeidende selskap, FC Lyn Oslo AS. Dette var et selskap i Atle Brynestad forretningsimperium. Det er slett ikke uvanlig i norske klubber at de kommersielle rettighetene og ansvaret er skilt ut i  et aksjeselskap, et AS. Det er heller ikke ulovlig, så lenge klubben har en NFF-godkjent avtale med AS-et. Og så lenge klubb og AS har positiv egenkapital, får klubben tildelt lisens –  det er få spørsmål om hvor pengene kommer fra, om driften faktisk er bærekraftig eller ikke. Formelt skal ansvaret for klubbdriften ligge hos klubb og ikke AS, men alle ser at dette ikke er tilfelle.
Ofte er det AS-et som har tatt over fullt og helt.
Da Brynestad fjernet sugerøret Lyn hadde hatt inn i pengebingen hans, satt klubben der med kontraktsfestede lønnsavtaler på 2-3 millioner kroner hver for 15 spillere. Men Brynestad hadde også hatt et sugerør inn i Lyn. Klubben eide ikke salgsrettighetene til spillerstallen, det var det FC Lyn Oslo AS som gjorde. Og dette selskapet var en del av CG Holding. Salgene av John Obi Mikel og Chinedu Ogbuke skal ha hatt en verdi på 100 millioner kroner – og de millionene forsvant inn til Brynestads selskap. Et grovt eksempel på hvor galt det kan gå i den norske klubb/AS-modellen, der makten og kontrollen helt lovlig i følge NFFs lovverk føres ut av idretten.
«I regnskapene til Atle Brynestads mange virksomheter kommer det frem at pengene fra salget av John Obi Mikel er borte fra Lyn. De er tatt ut av klubben og plassert et sted i Atle Brynestads intrikate forretningssystem. Kanskje er de blitt brukt på å kjøpe inn blåskjell i nett til Smart Clubs fiskedisk, kanskje er de gått til å betjene Atle Brynestads milliardgjeld. Kanskje til noe annet. Pengene er bokført som såkalt konsernbidrag og er vanskelige å spore» skrev Dagens Næringsliv.
Klubben hadde svært beskjedne inntekter og ingen mulighet til å finansiere de dyre kontraktene. Men det tok nesten ett år før klubbledelsen tok affære. For seint innså de at de måtte kutte til beinet.
Ofte er det en form for krisemaksimering når klubbene går offentlig ut og forteller om sin vanskelige situasjon, noen ganger er det spill for galleriet for at det skal se litt verre ut, sånn at noen der ute hoster opp de millionene som trengs. Ofte er det ganske ille, men ikke helt prekært. For Lyn var det helt prekært. En av hovedsponsorene til Aalesund spyttet inn noen millioner, siden en Lyn-konkurs ville gått ut over klubben på Sunnmøre. Hafslund bidro. De hadde sett at byderbyene mot Vålerenga hadde en verdi. Det var snakk om beløp i ti-millionersklassen Lyn samlet inn. Men alt gikk i det svarte hullet. Driften var lagt opp til å gå 10-20 millioner i minus hvert år, som Brynestad skulle dekke inn. Så innsamlingen hadde uansett ikke vært nok. Det var slutt.
Men Lyn skulle egentlig aldri ha hatt lisens etter 2009-sesongen. Budsjettet var et fantasibudsjett. Klubben hadde budsjettert med 20 millioner i spillersalg, altså etter at finanskrisen hadde slått inn og markedet hadde tørket inn, og de hadde budsjettert med 20 millioner i frisk aksjekapital. Da hadde klubben for lengst saumfart sponsormarkedet. Det er lett å spekulere i at NFF ikke turte annet enn å la det skure og gå. Skulle de nekte Lyn lisens, ville det ha tvunget fram granskning av de andre klubbene og åpnet et ormebol de ikke ønsket innsyn i. Driften i Lyn var ille, men driften var tilnærmet like lite bærekraftig i flere andre klubber.
Følelser – og fornuft
Lave tilskuertall og tomme seter. Lyn hadde vært klubben uten publikumsappell, holdt i live av en rik onkel. Men gjennom 1990- og 2000-tallet hadde det likevel vokst fram en sterk supporterkultur i Lyn. Flere på dagens Lyn-lag sto midt i Bastionen, og de har ikke glemt hvor de kommer fra.
– Å være med på denne reisen, hva det betyr for Lyn og spillerne som er med, det må man forstå og ha en form for ydmykhet for. Jeg har vært her så lenge at jeg kjenner igjen ansiktene fra publikumsbilder tatt på Lyn-kamper de siste 20 årene. Plutselig så går det opp for deg at han nye spilleren vi har signert; dæven, han er en som jeg kjenner igjen på et bilde av Bastionen, en som jublet for seier eller deppet over et tap, sier Bredo.
Bare to spillere i dagens A-stall er helt uten Lyn-bakgrunn. De fleste har spilt på aldersbestemt nivå for klubben. Mens andre, som toppscorer Birger Rasmussen, alltid har vært Lyn-supporter. Han spilte ikke i Lyn som barn, men sto i Bastionen.
Og Jonas Rygg, som nå trener crosspasninger i Manglerudhallen, var medlem av Bastionen.
– Fattern er fra Trysil, men hadde Lyn som favorittlag som ung. Da han flyttet til Oslo, begynte han å gå på kamper. Storebroren min, Aslak Arntzen, ble automatisk Lyn-gutt og har vært med i styret i Bastionen. Jeg fulgte etter både som spiller fra jeg var 10-11 år, og så opp på tribunen blant Bastionen, sier han mens han fyrer av noen femtimeterspasninger med høyrebeinet.
Klubben som liksom ikke hadde noen identitet, annet enn at de kunne skimte med flest medlemmer i styrerommene i Norges største selskaper, har nå brukt de siste årene på å bygge identitet. Og svært mange fotballspillere vil til Lyn, de har hatt over 1000 henvendelser fra spillere som ønsker å spille fotball i lavere divisjoner foran to tusen tilskuere. Laget som aldri tidligere kunne bruke engasjement og publikumsoppslutning som argument i forhandlinger med spillere, gjør nettopp det.
– Fra første stund har vi vært bevisste på å utnytte stemningen og engasjementet. Alle kampene filmes fra motsatt side av der Bastionen står – sånn at de alltid er med i bildet. Vi har en scoringsvideo vi har laget. Den er 45 minutter lang. Akkurat nå er vi i forhandlinger med Andreas Moen som har spilt i Kongsvinger de siste årene. Han spilte aldersbestemt fotball i Lyn, og til og med i Tippeligaen. Når han ser den videoen er han litt nærmere å tre ut av sin betalte jobb som fotballspiller i Kongsvinger og komme til oss.
«Ekte fotball. Ekte fans.»
Det var Lyn som var initiativtaker til byggingen av Ullevaal stadion, og klubben var lenge majoritetseier, men andelen eid av Lyn minsket for hver utbygging. I 2007 solgte klubben seg helt ut, og pengene fra salget finansierer klubbhuset som er under bygging på Kringsjå, vel en kilometer oppover åsen fra Ullevaal – der klubben har sine treningsbaner.
Foreløpig holder Lyn-administrasjonen til i et leid lokale i nærheten. Det er sparsommelig innredet. På veggen henger et lerret av et publikumsbilde av Bastionen. «Ekte fotball. Ekte fans» står det på lerretet. En vegg prydes av en Lyn-logo. Det er lagbilde av «bronselaget», et actionfoto av Lyn- og landslagsspissen Arne Brustad fra en landskamp mot Finland. Besøkende får servert pulverkaffe i plastkopper. Overalt står det pappesker med Lyn-drakter. Å kalle det Lyn-administrasjonen er en overdrivelse, det er Lyn-administratoren som holder til her, klubbens markedsansvarlig Magnus Wattne. Stikker du innom kan han like gjerne være opptatt med å trykke logoer, reklame og nummer på draktene som er kommet i de brune pappeskene, som å sitte i telefonen med sponsorer.
Han hadde vært en markant skikkelse i Bastionen, og jobbet til daglig som journalist og tippeekspert i TV2 og Nettavisen. Lyns konkurs ble som et kall. Han ville jobbe for Lyn. Det måtte skje gratis. Det hjalp at han hadde hatt et svært innbringende år på tippefronten. Nå er han én av klubbens heltidsansatte. Den andre er trener Finn Bredo Olsen.
– Da konkursen kom var det riktig å ta steget fra å være supporteren som satt på utsiden til å være på innsiden. I den situasjonen vi var i, var det gitt at Bastionen ville få en annen rolle enn tidligere da investorene kjørte showet og vi var passive tilskuere, sier han.
M-T
Det er et klassisk tilfelle av driften av norsk fotball. Makten er tatt over av investorene, og klubbens fundament – publikum – marginaliseres.
– Her driter norsk fotball seg ut. Man tror at man kan drive på Real Madrid- eller Manchester United-nivå, altså at de har et produkt. Et produkt som er så ettertraktet at man ikke trenger å ta hensyn til supporterne. Da det var penger som mest i norsk fotball for noen år siden, var det kanskje tre-fire klubber som kunne drive sånn. Resten var helt avhengig av å ha en tett relasjon mellom seg og dem som bryr seg – altså supporterne, sier Wattne.
Vendepunktet i tilværelsen som Lyn-supporter kom halvannen måned etter konkursen. Det skulle igjen bli gøy å være tilskuer på Lyns kamper, i motsetning til årene før der alle Lyn-oppslag hadde noe negativt over seg. Rett etter at Atle Brynestad hadde kommet inn i Lyn, hadde de skilt ut elitesatsingen i egen klubb som innbefattet A-laget, Lyn 2 og juniorlaget NTG/Lyn, så konkursen rammet ikke moderklubben Ski- og fotballklubben Lyn. De hadde fortsatt et lag i 6. divisjon, fylt opp med klubbens trenere og Lyn-gutter som ikke hadde vært gode nok for en elitesatsing, men som spilte fotball fordi det var gøy. 22. august 2010 var det kamp mot Vinderen. Mange i Bastionen hadde lenge hatt en drøm om å legge kampene til Lyn på Frogner stadion – der Norge i sin tid spilte sin aller første hjemmelandskamp mot Sverige i 1910, der Lyn vant sine fire første NM-gull. Banen ligger i gangavstand fra Majorstua T-banestasjon. Supporterne jobbet hardt for å få 6.-divisjonskampene til Frogner. Det var en del i Lyn-systemet som lo av Bastionens tanker om spill på Frogner. «Ja, nå skal vi liksom fylle Frogner i 6. divisjon», ble det hånlig sagt i Lyns fotballstyre. Det ble en intern fight, men etter intens lobbyvirksomhet innad i klubben, vant Bastionen fram. Kommunen og fotballkretsen var ikke vanskelig å be når det gjaldt å finne ledige tider på banen. Heltene Steven Lustü og Jo Tessem meldte midlertidig overgang til Lyn for å spille kampen. Det var første tegn på at mange hadde sterke følelser for klubben som var blitt et mobbeoffer i norsk toppfotball.
For nesten 3 000 tilskuere møtte opp. Noen år tidligere hadde folk ledd av Lyn – klubben som trakk 1600 på Ullevål stadion mot Molde i Tippeligaen. Nå satt folk nesten inne på banen. Ordfører Fabian Stang måtte ringe på forhånd for å spørre om det var plass til ham.
Bastant bastion
Bastionen stilte noen krav: Alle spillerne skulle ha en Lyn-tilknytning og Bredo skulle være trener. Bredo har ingen meritter i form av seriemedaljer eller turneringsseire. Det er hans arbeid med å få fram unge spillere som har skapt en sånn standing innad i miljøet. Det sies at Lyn kan stille én ellever med spillere i Tippeligaen og utlandet, og én ellever av spillere i Adeccoligaen. Bredo har vært med og formet alle disse spillerne, som Jo Inge Berget, Erling Knudtzon, Magne Simonsen og Tomasz Sokolowski.
I siste serierunde rykket Lyn opp. 700 Lyn-fans krabbet oppover en jordskråning i bortemøtet med Nesøya. De vant 14-1, og rykket opp foran Dynamo Mjøsa og Oldenborg 2 – et lag av innflyttere fra mjøsregionen og 2.-laget til den kristne klubben Oldenborg.
– Samtidig hadde det åpnet seg en mulighet til å kjøpe FC Lyn Oslos plasser i seriesystemet ut av konkursboet. Da kunne vi starte i 2. divisjon eller 4. divisjon. Vi valgte å kjøpe plassen til tidligere Lyn 2, og startet 2011 i 4. divisjon. Vi følte 2. divisjon igjen ville bli et nytt pengejag, og med den nyeste historien friskt i minnet skurret det for supporterne og grasrota i klubben. Så fra 2011 ble det 4. divisjon, med 2. laget i 5. divisjon, sier markedsansvarlig og altmuligmann Magnus Wattne.
Hvor Lyn spilte, fulgte Bastionen med. Det ble drukket noen flasker øl ganske mye nærmere spillebanen enn det som er lovlig. Fyre av bluss gjorde de også. Men ingenting negativt skjedde. Aldri bråk eller noen form for tumulter. Folk koste seg på kamp igjen.
– Det er en interessant case. På Vålerenga-Lillestrøm, Molde-Rosenborg og et utvalg kamper er det selvsagt nødvendig med et visst sikkerhetsoppbud. Men på Sogndal-Haugesund? Og kampene i Adeccoligaen? Det er krav om et visst antall vakter og politi som slettes ikke trengs. Det er bare utgifter for klubbene. Da vi spilte Tippeliga på Ullevaal med 2000 tilskuere, ble du ransaket og fratatt paraplyer og så videre – som om ikke folk ferdes i byen, på T-banen og ellers med både paraplyer og lommene full av kastegjenstander. Uten vakthold og sikkerhetsoppbud, tar folk faktisk litt ansvar for seg selv og dem rundt seg. Sett den behandlingen du får på toppfotballkamper i Norge opp mot det vi kan kalle normal kundeservice! Supporterne er en del av produktet, det må NFF og klubbene forstå, sier Lyn-administratoren som ikke har glemt at han egentlig er supporter.
– Det å se Lyn vinne kamper igjen har vært fantastisk. Men du savner følelsen – den kriblinga i kroppen når du står opp om morgenen en kampdag – av at kampen kan gå alle veier. Det er gøy å se Lyn score 8-10 mål, men ingenting matcher det å snu en kamp og vinne 3-2 i sluttminuttene. Det får vi i 2. divisjon.
Det er nå det begynner
Wattne vet at den tunge jobben starter nå. Prosjektet har vært gøy så langt. Nå kreves det annen form for jobbing. Lyn måtte omdefinere kjernevirksomheten sin – tidligere handlet alt om å få inn den neste kronen og bruke den på spillere. De to siste årene har dreid seg om å engasjere mennesker. Men nå må de igjen ut for å få inn kroner. Lyns budsjett i 2. divisjon er på moderate 3,5 millioner kroner, og Wattne merker at hverdagen mer og mer handler om sponsorer enn å skrive engasjerende artikler på Lyns hjemmesider. Frykten er å stagnere i 2. divisjon.
– Det er det. Men vi må ikke rykke opp med en gang. Det gjør vi gjerne, selvsagt, men kanskje har vi godt av et par år hvor vi kan vende oss til hverdagen igjen – å akklimatisere oss administrativt og sportslig. Vi har store muligheter både på publikums- og sponsorsiden, sier Wattne.
For å få fart på spillerkjøp, oppfordres supporterne til å bidra. Deres innskudd på 300 til 500 kroner i måneden øremerkes til å dekke lønnsutgifter til nye spillere.
I Manglerudhallen avsluttes treningen med sju mot sju. Av alle spillere i Lyn-drakter denne januarettermiddagen er Endre Fotland Knudsen den eneste som har vært med helt siden konkursen. Han debuterte i Tippeligaen som 18-åring i 2007, borte mot Start og scoret Lyns seiersmål i det 88. minutt. Han ble tatt på U21-landslaget. Men han sleit med skader, og da konkursen kom, valgte han å spille 6. divisjon. Han fikk han tilbud fra andre klubber, men valgte folkefestene på Lyn-kampene – og Bredo.
– Jeg hadde ham som trener på juniorlaget og som spillerutvikler på A-laget. Han er grunnen til at jeg tok steget. Jeg hadde stagnert etter to år på NTG, og selvtilliten var borte. Jeg fikk beskjed om å sette fart og utfordre hver gang jeg hadde ballen. Jeg mistet mye ball, men han ba meg fortsette. Bredo er veldig detaljorientert, og kan pirke på en detalj som kanskje ikke virker så viktig. Men så terper du på den og blir litt bedre for hver gang, sier han.
Fotland Knudsen er usikker på hvor gode de er i forhold til toppen av 2. divisjon, men er sikker på en plass på øvre halvdel.
Fyrtårnet i gruppa er Mads Dahm. Han ruver et hode høyere enn resten av laget. De andre er relativt små. Det er Lyn-spillernes fysikk som er Bredos eneste bekymring. Han ga dem derfor ekstra økter med fysisk trening før jul.
– Mentalt sett, så er vi bra rustet. Ja, vi har vunnet med mange mål, men også kampene i 3. og 4. divisjon starter på 0-0. Og kampene har gjerne vært små cupfinaler de stedene vi har vært, der skolekorpset har vært utkalt og de har hatt speakertjeneste på første gang på tiår. Lagene var vanvittig motiverte, så vi har tatt hvert lag på alvor. Studert dem i forkant. Hele tiden har vi vært 100 prosent skjerpet. Og når da byllen sprekker, blir det gjerne mange mål. Det er da du kan studere hva dine egne spillere står for, og hva hver enkelt spiller står for mentalt. Når du fortsatt gir alt på 5-0 og 6-0, da beviser du at du har tro på prosjektet og er villig til å ofre. Men fysisk sett er vi jo et pinglelag. Vi har mange lettbeinte spillere som liker pasningsspill, men som kanskje ikke elsker å duellere, sier Bredo.
De trenger litt mer tyngde i laget. På sidelinjen står Gøran van den Burgt,  som i fjor spilte i Strømmen, og følger treningen. En spiller som elsker duellene. En tøffing – i hvert fall om du blar i notatblokkene til norske 1. divisjonsdommere.
Og han er Lyn-gutt fra barnsben av.
Å finne tilbake til sine egne, forblir forankret i Lyn-filosofien. Bare noen dager etter at Josimar var på besøk, skrev Andreas Moen og Gøran van den Burgt under for Lyn – finansiert av supporternes bidrag.