Did UEFA censor criticism of Čeferin?
UEFA removed a Slovenian TV programme on Youtube because it allegedly violated broadcasting rights. But was the true reason, rather, that the programme in question heavily criticised Aleksander Čeferin's reign as head of the Slovenian FA before becoming UEFA president?
By Pål Ødegård and Håvard Melnæs
VV Faktor is a TV show broadcast by the Slovenian channel TV3, and is also aired on their own Youtube channel the following day. The show usually covers two topics in a debate between two commentators and a host. On Wednesday the 6th of September the debate was about the poor results of the men's national team under head coach Srečko Katanec. Qualification for the World Cup in Russia next year looks unlikely. Russia 2018 will be the fourth consecutive tournament Slovenia have missed out on since participating in the World Cup finals in 2010, where they narrowly failed to advance from the group stage under head coach Slaviša Stojanović, and their longest tournament-less streak since independence in 1991.
The panel on VV Faktor went on to discuss Aleksander Čeferin, who was elected as Slovenian FA (NZS) president in 2011, as part of the reason for the decline. On the programme Ivan Simič, Čeferin's predecessor as Slovenian federation president, claimed Čeferin hired Katanec as part of his platform to get himself re-elected in 2013. He went on to say that Čeferin is the only one who can end his contract since the current NZS president Radenko Mijatović is regarded as a puppet of the UEFA president. According to Simič, Čeferin gave Katanec a contract which entitles the current national team coach to a huge settlement sum if his contract is terminated before it expires.
Dire financial straits
This brought the panel onto the economic situation of NZS, which is heavily in debt. At the end of 2016 it reported a loss of €1.2 million while the total debt amounted to €8.2 million. The biggest drain on the NZS coffers is the still unfinished sports complex and national team training centre in Brdo, which opened in 2016 with FIFA president Gianni Infantino present. Its final cost is now estimated to be more than €11 million.
"The budget for the construction of Brdo is listed at €10.5 million. We know that the cost of the football fields amount to €4.5 million, so that means €6 million for the offices. That means a cost of €6,000 per square metre, six times the normal cost. Where is that money?," Simič asked the panel.
When Ivan Simič left the federation in 2011, the federation had a positive balance of €1.1 million. In a column written for Portal Plus in May this year, he wrote that building the complex in Brdo was a bad idea in the first place, and that his administration suggested to have the offices built in Ljubljana instead for a cost of just €1.3 million. In addition, the land the offices would be on would have been the property of the Slovenian FA, something which isn't the case at the current one in Brdo. Instead it is leased from the state for €4.4 million over 50 years, or an annual cost of €88,000. "Why did NZS leaders prefer to opt for remote and irrational luxury at Brdo instead of a rational solution in Ljubljana?", Simič asked in the column. Simič ran for NZS president in the 2016 election, to replace the outgoing Čeferin, but withdrew after what he called a dirty campaign of threats and manipulations.
"Many feared that I might have won that election, and come in to uncover many issues", Simič told the VV Faktor panel when discussing the financial situation of NZS and its complex at Brdo.
The creditors
The Slovenian FA's two biggest creditors are Aleksander Čeferin's employer UEFA and a Russian bank. In 2015 the Slovenian FA took out two big loans: Three million euro from the Russian Sberbank, and four million euro was borrowed from UEFA.
Sources at UEFA told Josimar last autumn that loan applications usually follow the same pattern; a President of a member association contacts the Secretary General of UEFA.
When the Slovenian FA asked UEFA for a loan, it most likely happened like this: The association's president, Aleksander Čeferin, approached the then-Secretary General of UEFA, Gianni Infantino, who was amongst the men who granted the loan.
As Josimar reported last September, Gianni Infantino wanted Aleksander Čeferin to be the new president of UEFA. Infantino's Director of Strategy, the Norwegian Kjetil Siem, had told several news outlets that he lobbied for Čeferin for almost two years.
Report removed without notice
Viewers who wanted to see this report on their Youtube channel, however, was met with this instead: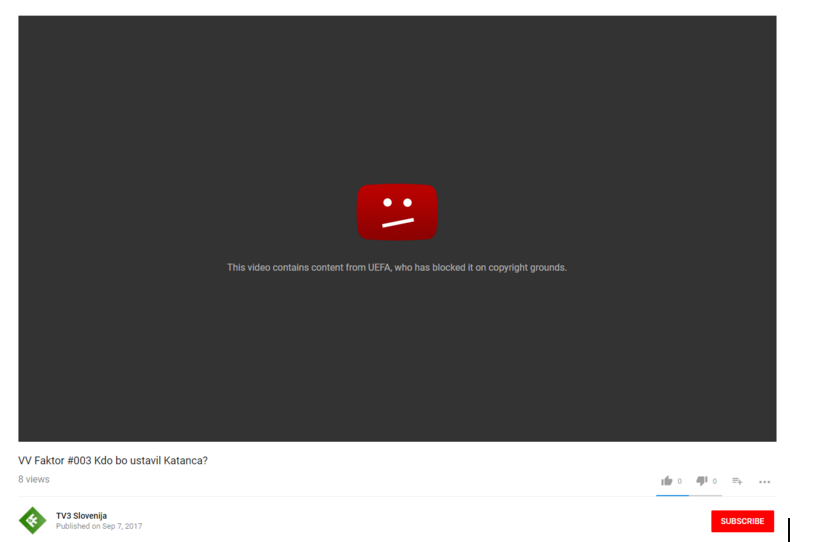 "This video contains content from UEFA, who has blocked it on copyright grounds" indicates it was UEFA who asked Youtube (or Google, who owns and administer Youtube) to remove the specific report. VV Faktor tells Josimar that they used a video clip of a few seconds to show one of the goals Slovenia scored in their 4-0 win against Lithuania in their last World Cup qualifying match played on the 4th of September. VV Faktor goes on to tell that they have violated no rights as it was courtesy of the Slovenian national TV channel, of whom they have a legal agreement to show such content in retrospect. VV Faktor/TV3 have not received any notification about the removal from neither UEFA nor Youtube/Google other than the message shown on Youtube.
Josimar have asked UEFA about why they have requested the video to be removed without notifying the Slovenian broadcaster, and on which specific grounds TV3 have violated any broadcasting rights, but have yet to receive a reply. Google have promised to investigate why this specific video was removed, but as of yet, no clarification has come from them either at the time of writing.
Whether copyright has been breached or not, it is timely to ask the question how UEFA became aware of the video since it bares no tags saying 'UEFA', 'World Cup' or similar, and the still picture seen before the video is played doesn't indicate any football footage being shown. Perhaps it's as simple as this: The UEFA president saw the show, didn't like it, and wanted to silence any negative talk?